With summer almost halfway gone (!!!), we are finally in the swing of things for sure. The temperatures have risen, the Fourth has come and gone, and school is now only a distant blur. I've already been to fashion camp, gone to the pool more times than I can count, visited with my cousins, and completed many projects I'd been saving for the summer all year. And of course I've spent ample time at Summerfest, the world's largest outdoor music festival. One of the greatest attractions of Milwaukee, Summerfest hosts hundreds of famous bands every year that play for the eleven days of the festival from late June through early July. Definitely the highlight of every summer for me, I try to make it downtown every night possible to jam to my favorite bands as well as new ones I've never heard of (but that soon become new favorites). Although I only made it five times this year, each trip was a blast. Even for non-music lovers, Summerfest is a great event~ the people watching is crazy, the outdoor stages border Lake Michigan, and the chairlift is a fun way to escape the major crowds below. This year recorded the record number of people to Summerfest on the first Saturday of its run- over 20,000 attendees! Because of its fame and scope, Summerfest attracts people from all over the country. Highlights for me this year included Imagine Dragons, Awol Nation, John Mayer, Pretty Lights, and John Mayer. Summerfest really can't compare to any other summer outdoor festival.
I really cannot wait until next year to 'fest it up again!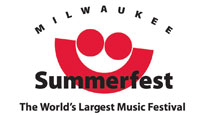 My twin sister and me at Pretty Lights.
A new favorite country band at the US Cellular Stage.
A cold drink to quench my thirst on a hot night.
MGMT tour t-shirts: a must! (Although I only approve them as workout apparel)





Love,

Klara